Thousands Of Images For Only A Few Dollars? Why We Love The Micro Stock Photo Agency

Imagine having thousands of photographer's and artist's images available to you for a few dollars a shot. Sound too good to be true? It isn't. There is an incredible resource we discovered a few years ago and use extensively in our videography and eCommerce business, the Micro Stock Photography Agency.
A new component of the stock photography industry, these agencies fall into the Royalty Free Stock Photography area. Royalty free means that a stock photo can be paid for once, but used multiple times. The main difference with Micro Stock Photography sites versus regular royalty free sites is that clients can license images for as little as one or two dollars! You read that right. Regular royalty free stock photos tend to be licensed for $20, $30, even $100 or much more.
"Royalty Free" means what it says; you'll pay no royalties on usage of the stock photos. However, it does not mean the photos are now fully owned and copyrighted to you! Stock photos are always owned in full – and fully copyrighted – by the photographer. When you buy stock photos, you are only getting a license to use those photos for specific uses.
There are usually limitations, depending on where you've purchased a royalty free photograph. Some stock providers will allow you to create products for resell using their royalty free photographs, while many will not. Others might allow you to do so at lower volumes – less than 100,000 for example – and some will allow you to pay higher prices for larger volume projects. When purchasing any image, you'll want to find out these limitations and give credit to the photographer if required.
Some of the best known micro stock photography companies out there, are, Shutterstock, BigStockPhoto, iStockPhoto, and the one we use, Dreamstime.
Shutterstock, with millions of images online, is the largest subscription-based stock photo agency in the world. With a subscription, the images cost pennies, not dollars. They also offer editorial photos.
BigStockPhoto is also one of the big players in the micro stock photo industry. You can buy as little as one credit and there is a large selection to choose from.
iStockPhoto was the first major micro stock site and has a very feature rich website.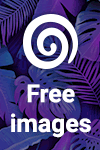 Dreamstime has become the favorite among micro stock photographers because its compensation and pricing structure is very fair to both photographers and buyers. Dreamstime.com is the agency we have used the most and we recommend it for many reasons.
There is a huge inventory of good quality and diverse images and illustrations, and their prices are incredibly reasonable. Photographers and artists like their pay structure so they attract a lot of good photographers and illustrators to submit to them. We love the inventory of free images they offer. It is updated regularly and we've found many out of that supply which we've used.
You can download a low-resolution image for free, which is great in determining if the image will work for you. Multiple resolutions of all images are offered at varying price points. The search capability is pretty good and you can create a "light box" of your selections, where you can decide from all your possible picks which to purchase.
In fact, we not only buy from them, we submit to them as well. They are picky in what they accept so you know you are getting original, quality images. Our photographs have made us money.
On the down side to using them, or any of these micro stock agencies, you will have to spend time looking through many images. Even though there is a robust keyword search tool, it is only as good as the keywords the individual photographer used when submitting their photograph. We have found you need to experiment with keywords to unearth some gems. Since they accept work from all over the world, the language and figures of speech may cause inaccurate descriptions and keywords used for searching.
You also will find many images look like they are from European, Scandinavian, and eastern European countries. Apparently there are many enthusiastic photographers in these areas. So if American scenes are what you are looking for, you will have to wade through many that won't work for you.
Using Royalty Free Stock Photography, you may be using the same image that thousands of other clients use in their projects and promotional material. If that is an issue for you, then you would want to look at Rights Managed (RM) Stock Photography. This type of stock photography is the most expensive, but it's also usually the most creative and unique. With Rights Managed Stock Photography, a limited number of people use a particular photograph at any given time. With Rights Managed photography you will have many more restrictions on usage as well. You'll have to pay royalties, or ongoing fees, based on how you'll use the stock photos they've selected.